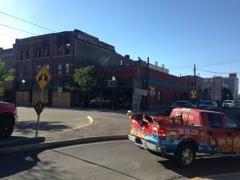 When you are looking for the best fire and water damage cleanup company, you can depend on Idaho Fire and Flood. Three weeks ago Monarch Building in Pocatello caught fire. The business next door, The First National Bar suffered major damage. Today, the business next door named the First National Bar opened it's doors.

The First National Bar is located on West Center Street and it suffered severe smoke and water damage when fire crews worked to put out the fire. Once the work to put out the fire was complete, the professionals at Idaho Fire and Flood were called in to repair the damage caused by the fire and the water.

The bar unofficially reopened on Thursday, however, there are a lot of touch ups that still need to take place inside the bar and they hope to be completely ready to go on Friday.

An investigation into the cause of the fire has been taken over by the owner of the building's insurance company.