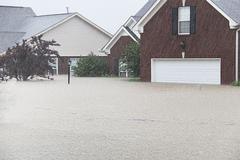 It's flood season in Southeastern Idaho, so here is a few tips for you to do after the flood has happened to better prepare you and your family.
Tip 1: Stay away from the evacuated area until public health officials and building inspectors have given approval.
Tip 2: Check for structural damage before entering.
Tip 3: Make sure electricity is off, watch for electrical wires.
Tip 4: Do not use open flame as a light source because of the possibility of escaping gas. Use flashlights, and beware of dangerous sparks. Do not use food contaminated by floodwater.
Tip 5: Test drinking water for suitability with test kits.
Tip 6: Avoid walking in floodwater, and do not let your children play in the floodwater.
Floods can be caused by rising water from snow melt, but can also be caused by broken pipes due to the cold weather. If you do have a flood happen in your home or business, call us today and we will help you restore your property.